---
"Planamazer" - a software solution for predicting the stress load in the implementation of projects More »
Chapter 4 Task States
4.1. Editing the State
Each task of the project, taking into account a number of restrictions described below, can be in one of several states, which are characterized by the following statuses:
«Planned» - the user is expected to indicate the start of the task.

"Running" - the task is currently running. The user can pause or finish the task.

«Paused» - the execution of an incomplete task has been paused. The user can resume or finish the task.

"Completed" - task completed. The user can resume the task.
The "Begin" and "Resume" actions propagate hierarchically up to parent tasks, while the "Pause" and "Finish" actions propagate downward to subtasks. If the subtask to which the action is applied from above has the "planned" status, then its status does not change, and the new action does not apply to its subtasks. For ease of remembering this rule - "starting pushes the head, and stopping slows down the tail." The number of days in which the task was in the "paused" status is summed up and defined as "idle days". Idle days counts towards the Program's determination of how late a task is to complete.
Viewing and editing the status of a task is carried out in the "Status" dialog box, which is available by clicking the status label in the task description field on the Title Bar or the title area of the Task Pane (Figure 4.1.A). p>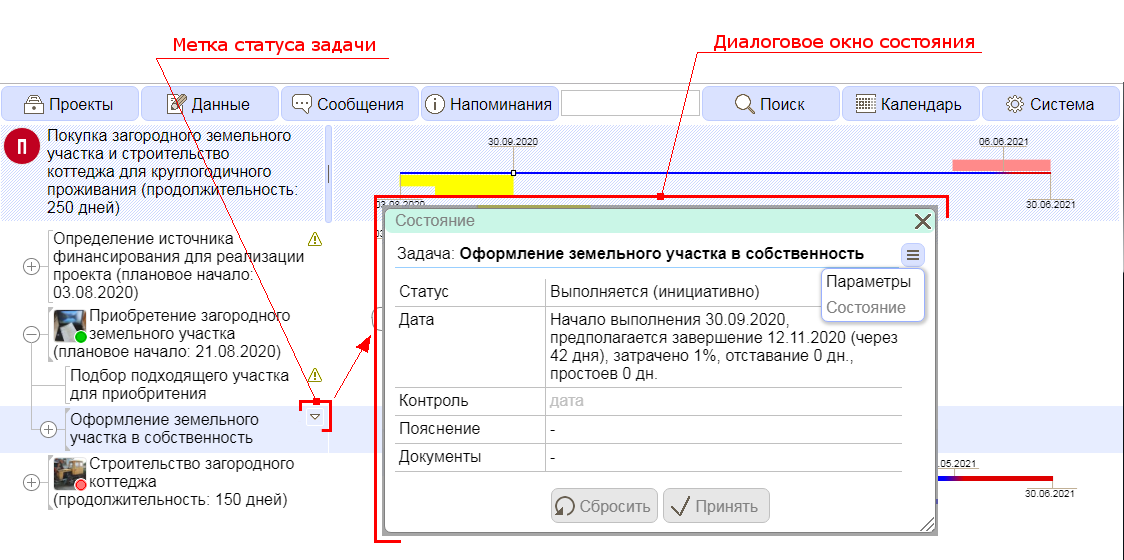 Figure 4.1.A. Status Dialog
The Status dialog box includes the following fields:
The Name field contains the name of the task and data on the time parameters of the current status of the task.

Button Local menu – the purpose is identical to that described in paragraph 3.6 and previous chapters.

The Status field displays the current state of the task execution and contains a built-in button that, when clicked, displays a list of states to which this task can be transferred, taking into account its current status.

< /li>

The Date field contains a description of the time parameters of the current state, and if a new state is selected, it is used to enter the start date of its validity. Note that the start date of the new state cannot be earlier than the start date of the current state. If the date of the new state is not set, then it is set to the current day.

The Control field is used to set the notification date about the current state of the task. At the set time, the list displayed under the "Reminders" option of the Main Menu will contain a corresponding entry that requires a response from the user. The key date can be reset to a different date without changing the current state.

The Description field contains a text description (comment) made by the user when this state was set.

The Documents field contains the names of the files specified by the user when setting the current state. Files are selected using the "Files" dialog box, displayed by clicking on the pop-up button of this field (Figure 4.1.B). For selected files, the Program calculates checksums, which can later be checked to confirm that these files are unchanged. It is important to remember that the Program does not transfer files directly to the server.

Manual PDF
---